ILBIJERRI Theatre Company is the longest-established First Peoples' theatre company in Australia, which celebrated 30-years strong in 2021.
We create, present and tour powerful and engaging theatre by First Nations artists to audiences across Australia and the world.
As a fast-growing company, recently joining the National Performing Arts Partnership Framework (NPAPF), we are increasing our reach and influence across the performing arts sector.
From time to time we have opportunities to work with our core office and creative team, and at others we offer the change to express your interest in working on our productions - from Social Impact shows which often tour to Artist Development works, to increase knowledge in performance, writing and technical theatre skills.
CURRENT OFFICE VACANCIES
We currently have one position vacant within the ILBIJERRI team. Could it be you?
ProduceR

CLOSES 11 JULY
ABOUT THE ROLE
ILBIJERRI has a team of Producers, who play a vital role in delivering a diverse program of new work, touring, artist development, community engagement, social impact and cultural regeneration.
This Producer role requires previous experience in producing live arts &/or workshops &/or community engagement work, including in contracting, scheduling, logistics, relationship building and budgeting.
The Producer works closely with the Head of Producing, Executive Director, Artistic Director and ILBIJERRI's producing team to implement the day-to-day delivery of ILBIJERRI's artistic programming, administer the creation and presentation of new work and touring, and support the development of new community and artist development initiatives and programs.
SUITABILITY
We strongly encourage applications from Aboriginal and Torres Strait Islander people and People of Colour.
Applications from all suitable candidates are welcome, regardless of their culture, gender, sexual identity or perceived disabilities.
As per Victorian Government requirements, any person working on site must be up-to-date with their Covid-19 vaccinations, unless they have a medical exemption. As such, ILBIJERRI will require the successful candidate to verify vaccination or exemption certificate.
Applications close 3pm, Monday 11 July 2022
To be the first to hear about opportunities with ILBIJERRI, please subscribe to our eNews and follow us on our social media channels here.

CURRENT ARTIST OPPORTUNITIES
We currently have two new works in development with applications open for those interested in joining our team!
ILBIJERRI Ensemble
As part of our Artist Development Program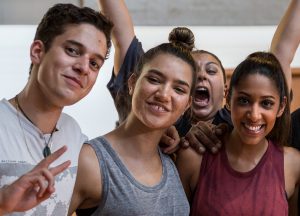 If you are First Nations, aged 17—30, and ready to try something new – join the ILBIJERRI Ensemble and earn some cash to upskill in the art of theatre making, performance, behind the scenes and learn how to lead fun and engaging workshops for primary school kids!
The Score
As part of our Social Impact Program
Are you an actor or facilitator interested in theatre? Ever wanted to perform in a play for mob in Community?
Applications are now open for new members to join ILBIJERRI Theatre Company's cast for an upcoming touring theatre project, THE SCORE – with full pay and training provided in facilitating creative workshops for mob in regional towns.